Nx Oceania Newsletter Issue No.4, August 2023:
ASIAL Security Exhibition 2023 Edition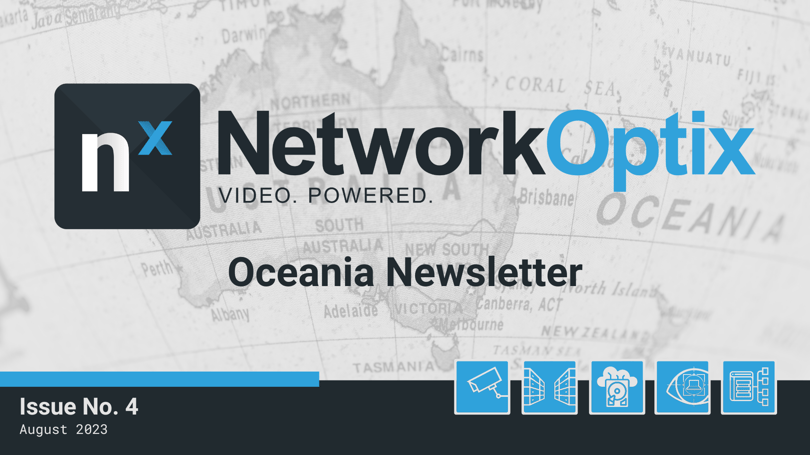 AIRA: AI-Powered Recognition Solutions
With more than two decades of expertise in video recognition, AIRA stands as a prominent developer of cutting-edge solutions for facial and object recognition. Their specialty lies in conducting research and development in AI algorithms, image recognition, and large-scale system integration. AIRA solutions have been implemented across various industries, including enterprises, construction, and site management, with the purpose of improving safety measures and enhancing overall management efficiency.
AIRA is trusted partner of Network Optix, offering a range of products fully integrated with Nx Witness VMS. These products include:
airaFace (Face Recognition Server): A facial recognition solution with access control management, attendance management, visitor self-check-in, watchlist detection, and special event notification capabilities. For integration details, visit the airaFace Works with Nx page.
airaTablet (Temperature Measurement Tablet): An all-in-one tablet face recognition solution with body temperature measurement, access control, and liveness detection capabilities.
airaTrack (Intelligent Facial Tracking Solution): A real-time face-tracking solution that, when combined with Nx Witness VMS, automatically tracks identified faces and records the time and place of occurrence. For integration details, visit the airaTrack Works with Nx page.

airaManager: A management platform that integrates various AIRA identification products including equipment management, database sharing, etc. so that customers can integrate multiple front-end devices.
Product Images
Experience the latest technology from AIRA firsthand at the Nx booth, P4, during the highly anticipated ASIAL Security Exhibition 2023.
---
VCA Technology: Integrating Innovations for Enhanced Security
In the ever evolving landscape of security technology, VCA Technology has been pushing the boundaries of video analytics and deep learning solutions for over a decade, with a remarkable global presence boasting more than 1.5 million deployed channels worldwide. At the heart of their diverse array of hardware and software offerings lies the VCAcore Deep Learning Analytics platform.
VCA Technology's product portfolio spans a comprehensive range, from advanced edge-based IP cameras to centralised software solutions, all driven by the formidable capabilities of the VCAcore Deep Learning Analytics platform. Their products cater to a wide array of applications and customers. The incorporation of VCAcore into the architecture of each offering allows for a seamless integration of deep learning capabilities, enhancing the accuracy and efficiency of video analytics.
The integration between VCA Technology and Network Optix brings forward strong, tested, networked video solutions. The lightweight and powerful Nx Video Platform and Meta SDK (Software Development Kit), provide the perfect conduit for VCA Technology to introduce innovative concepts in networked video surveillance. The integration of VCA's IP camera lineup with Nx Embedded has resulted in a powerful amalgamation of Nx and VCA products.
One of the groundbreaking concepts brought to fruition through this partnership is the Camera As A Server (CaaS). With CaaS each VCA IP camera doubles as a host, capable of supporting up to three additional cameras. This innovative approach enables seamless access to live and recorded video feeds from all four cameras through the Nx desktop client software. This concept empowers users with a distributed yet unified surveillance experience, redefining how video data is processed, accessed, and managed.
The integration between Network Optix and VCA Technology extends beyond hardware and incorporates software solutions. The VCAserver software is offered as a VCAnx plugin, streamlining user interfaces and creating a harmonious user experience for Nx Video Platform users. Further enhancing this collaboration, the VCAforensics software, equipped with rapid metadata search and AI-driven image search, seamlessly integrates with Nx Video Platform. This integration enables smooth video playback, ensuring that objects of interest are effectively identified and tracked across complex systems with multiple channels. For more integration details, visit the VCA Video Analytics Works with Nx page.
Experience the latest technology from VCA Technology firsthand at the Nx booth, P4, during the highly anticipated ASIAL Security Exhibition 2023.
---
Pro Data Key Access Control - Now Available in Australia
What is Pro Data Key?
ProdataKey (PDK) is a leading innovator of networked cloud-based access control products and services. The company's mobile-first PDK io cloud platform allows for complete system management and control through any web-connected device, anywhere, anytime. PDK delivers an exceptional user experience as well as the highest levels of security, safety and data privacy.
How does the integration improve security?
The integration of PDK and Nx creates a comprehensive solution that seamlessly integrates cloud-based access control with video monitoring and addresses the security requirements of contemporary enterprises. Through the Nx Witness interface, the integrated solution provides an all-encompassing management hub that empowers users to oversee access control and video surveillance seamlessly via a single interface. By bringing these elements together, the integration simplifies administrative tasks, enhances user satisfaction, and enables simultaneous monitoring of access incidents alongside their respective video recordings.
PDK access control will be on show later this month at the Network Optix booth, P4, at ASIAL 2023!
Can't make it to the event? Book a demo with ISCS.


---
Support Tip: Choosing the Right NAS Model for Your Office Needs
When it comes to selecting the ideal Network Attached Storage (NAS) model for your office, a multitude of options awaits, ranging from compact single-bay units to expansive models capable of accommodating numerous drives.
In the past year, our Nx APAC support team has diligently curated a tailored NAS solution optimised for office use. This is an opportune moment for us to share our decision-making process and unveil the factors that guided us in identifying the most suitable NAS model for our use case.
Key Factors to Consider
Before delving into the specifics of NAS models, it's imperative to consider an array of factors that shape the selection process. These factors include:
Diverse Applications
A NAS fulfils a spectrum of purposes contingent on individual user needs. Beyond its role as a file system, it's important to consider the nature of the data you intend to store. Will it predominantly comprise cold or hot data? Perhaps it will function as a repository for a surveillance system, necessitating continuous data recording?
Furthermore, a NAS possesses versatility as a solution for multifarious applications. It can double as a media server, host virtual machines, perform as a Docker host, or even operate as a VPN server. Consequently, delineating the core applications earmarked for the NAS is pivotal.
Context and Environment
The appropriateness of a NAS hinges upon where it will be stationed – be it a small office/home office (SOHO) environment, a media studio, or a more expansive setting such as a small to medium-sized business (SMB) or an enterprise.
The fitting NAS model varies depending on its allocated placement, whether it's perched on a desk, nestled on a shelf, or securely ensconced within a server rack.
Number of Bays
The quantity of bays within a NAS is based on your required storage magnitude. This determination hinges on evaluating your desired storage capacity, deciding on the appropriate RAID configuration, and the capacity of individual drives.
It's crucial to note that while RAID expansion is feasible post-initial setup, this process demands substantial resources and time. Consequently, prudently evaluating and strategising the NAS configuration from the outset mitigates the need for future expansions.
Networking Infrastructure
Identifying the correct type of networking interface for your environment is paramount. For efficient and reliable data transfers, Ethernet serves as the primary foundation for the networking interface in the majority of NAS models. These interfaces offer bandwidth that ranges from 1 gigabit per second (Gbps) to 10 Gbps. In some cases, certain models are equipped with even larger bandwidth through the utilisation of fiber optic interfaces.
Power Redundancy
Some NAS models offer dual power modules to ensure seamless power continuity in the event of a module failure. It is worth considering if a secondary power module is warranted for your NAS.
Scalability and Expansion
NAS models encompass an array of hardware configurations involving M.2 slots, PCIe slots, eSATA ports, and USB ports. Do you envision utilising these interfaces to expand your NAS's capabilities?
Our Deliberation and Selection Process
Herein, we unveil the deliberation behind each factor, aligned with the needs of the Nx APAC support team:
Applications: File system for Nx Witness server application testing purposes and VM function.
To meet these two requirements, we determined that selecting a NAS model with an x86 architecture CPU, which also supports virtualisation functions, was the most suitable choice.
Context and Environment: Network Optix Taipei Office, securely installed within a server rack.
Number of Bays: Opting for an 8-bay NAS aligned with our objectives. While total storage volume wasn't a primary concern, the number of separate storage spaces held primary significance. Allocating one drive for NAS system usage, dedicating three for general testing, and configuring a RAID5 array with four drives for expansive storage volume testing was our resulting strategy.
Networking Infrastructure: Given that our office infrastructure predominantly utilises 1 Gbps Ethernet, a Gigabit Ethernet-equipped NAS was the logical choice. However, a NAS model featuring multiple Ethernet ports would bolster bandwidth and redundancy via Link Aggregation Control Protocol (LACP).
Power Redundancy: Given our focus on testing rather than production, a single power module satisfied our requirements.
---
Be sure to visit the Nx Team at ASIAL Security Expo from August 30th to September 1st for an exclusive look at the latest version of Nx Witness VMS and the Network Optix Enterprise Video Platform, v5.1, along with the newest integrations from AIRA, VCA, Pro Data Key, Vape Defense, and Secury360.