Nx Oceania Newsletter Issue No.3, April 2023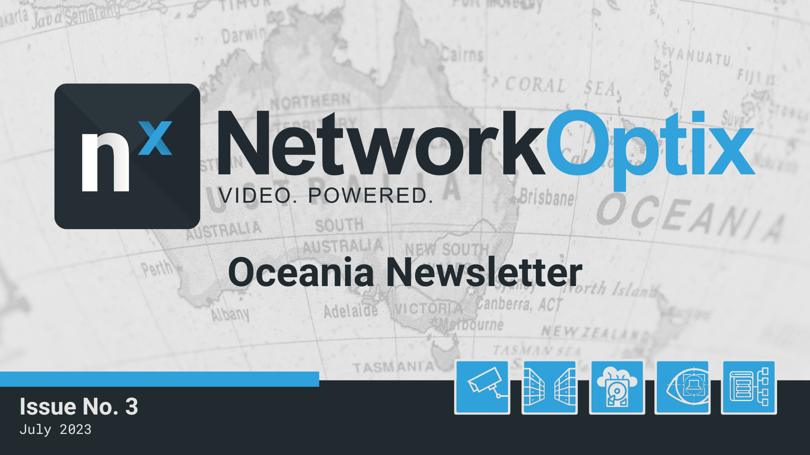 Nx hit the road this past May, visiting five major cities in Australia as a part of Sectech Roadshow 2023. Visitors to the Nx booth had an exclusive sneak peek at the upcoming release for Nx Witness VMS and the Network Optix Video Platform, v5.1 - Available for download now!
Thank you to everyone who stopped by the Nx booth. We appreciate the opportunity to answer questions and demo the latest and greatest from Network Optix. Your feedback is crucial in our ongoing commitment to improve our product.
Existing users, we enjoyed connecting and hearing about the positive impact of Nx Witness VMS on your businesses. For new users, our Reseller Partners are committed to assisting you throughout your journey, from implementation to helping you get the most out of the many tools and features included in Nx Witness VMS.
We'll see you at next year's SecTech Roadshow!
---
Case Study: Nx and VSP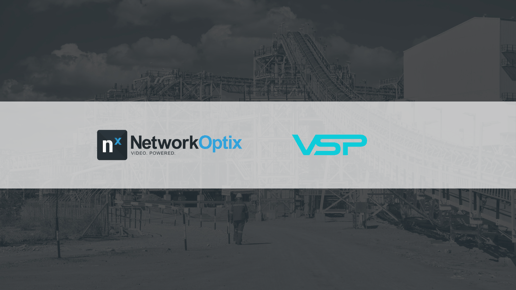 Securing Australia's Largest Heavy Mineral Sand Processing Plant with VSP and Network Optix
Network Optix and VSP Security Wholesale collaborated to design a video solution capable of protecting Australia's largest heavy mineral sand processing plant from vandalism and theft while also allowing communication among the plant's multiple systems for simpler, more cohesive system management.
---
Support Tip: ONVIF Profiles
In the world of video surveillance, it's crucial to seamlessly integrate and collaborate devices from different manufacturers to build robust security systems. That's where the
Open Network Video Interface Forum (ONVIF)
standard comes in. It's a widely recognised open standard that revolutionizes communication between IP-based security products. Established in 2008, ONVIF provides a common platform that enables compatibility and interoperability among cameras, video management systems (VMS), and other devices.
This section explores the significance of the ONVIF standard and introduces three new profiles to Nx Witness VMS. For a long time, Nx Witness VMS has been compatible with ONVIF
Profile S
, which played a key role in Nx Witness's ability to support 99% of all IP Cameras. To enhance functionality even further, Nx Witness will now add ONVIF profiles T, G, and M.
ONVIF Profile T
is designed for advanced video streaming applications, including high-resolution video, bi-directional audio, and metadata streaming. It's not intended to replace Profile S but has its own specific application area. Profile T incorporates the media2 service, already supported in Nx, for H.265 video compression.
ONVIF Profile G
focuses on video storage and retrieval. With Profile G, clients can configure recordings, search, and footage replay. In an upcoming major release, Nx Witness will introduce an import function for edge recording, providing a seamless solution with a wide range of devices.
ONVIF Profile M
is designed for analytic applications, allowing configuration of event rules and information queries for metadata and unlike Profile T, streaming is not mandatory for ONVIF Profile M-compliant devices. ONVIF Profile M establishes a standard set of metadata formats and events that video analytics devices can follow, such as facial recognition, licence plate recognition, and line crossing counter. ONVIF Profile M is currently on the development roadmap for Network Optix and will be released in a upcoming verison.
In addition to ONVIF Profile M, Network Optix already integrates analytic events with numerous manufacturers through native API integration to ensure the best compatibility. To see the full list of supported events, please refer to
Supported In-Camera Analytics
. The list of supported vendors and event types will continue to grow to ensure the very best products Work With Nx.
---
Introducing v5.1 - Available Now
The newest version of Nx Witness VMS and Network Optix Video Platform, v5.1, is available for download now!

v5.1 builds upon its 5th generation with expanded device and analytics support, enhanced admin capabilities, and a more efficient workflow for users - especially for those operating at the enterprise level. Download v5.1 today and explore the newest features, including Cross-system layouts, Camera Replacement, Remote Log Retrieval, and more.
New users can sign up for a free 30-day trial of Nx Witness v5.1 on My Nx.
---
Network Optix Attains SOC 2 Compliance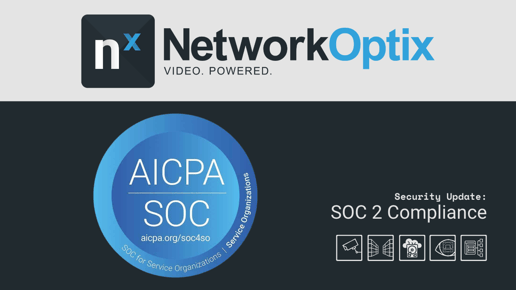 Network Optix is proud to announce that we have successfully attained the SOC 2 Type 2 compliance certification!

Obtaining SOC 2 compliance solidifies our dedication to safeguarding the security, privacy, and trust of our customers' data. Read the announcement on our website to learn about SOC and what it means for Nx customers.
---
SecTech Roadshow Prize Winner
We are happy to announce that Wayne from Peel CCTV & Security is the winner of the Nx Prize Pack! Thank you to everyone who participated in the giveaway across all five legs of the SecTech roadshow.

---