Nx Oceania Newsletter Issue No.1, January 2023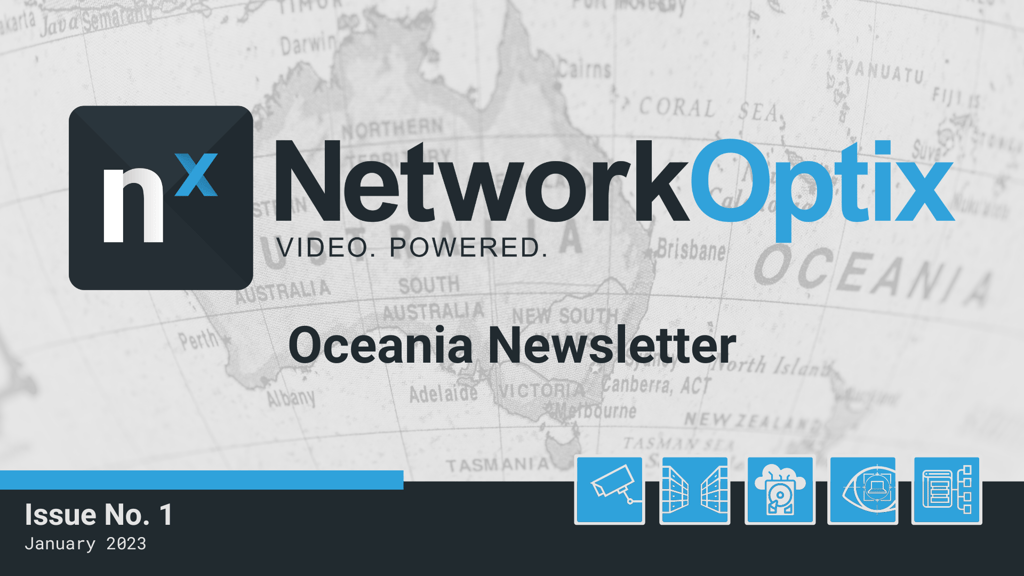 Introduction to Nx Oceania Newsletter & 2022 Recap
Welcome to our first edition of the Network Optix Oceania Newsletter! The Nx Oceania Newsletter will be a bi-monthly newsletter delivered throughout 2023 that will feature a wealth of information such as support tips, interviews, and details regarding new features and updates on the latest Works with Nx Integrations. To begin the first edition, we will take a look back at 2022 and how it set a strong foundation for a successful 2023.

2022 Recap & What to Expect in 2023
As we venture into a new year, Network Optix is excited about what lies ahead. In Australia, we have some big changes that will help solidify our position as a leading provider of video management software in the country. More on our 2023 plans later, for now let's take a look at 2022: a uniquely challenging year around the world, but a year that was largely successful for Network Optix, particularly within Australia and New Zealand as we saw the return of travel and in-person events.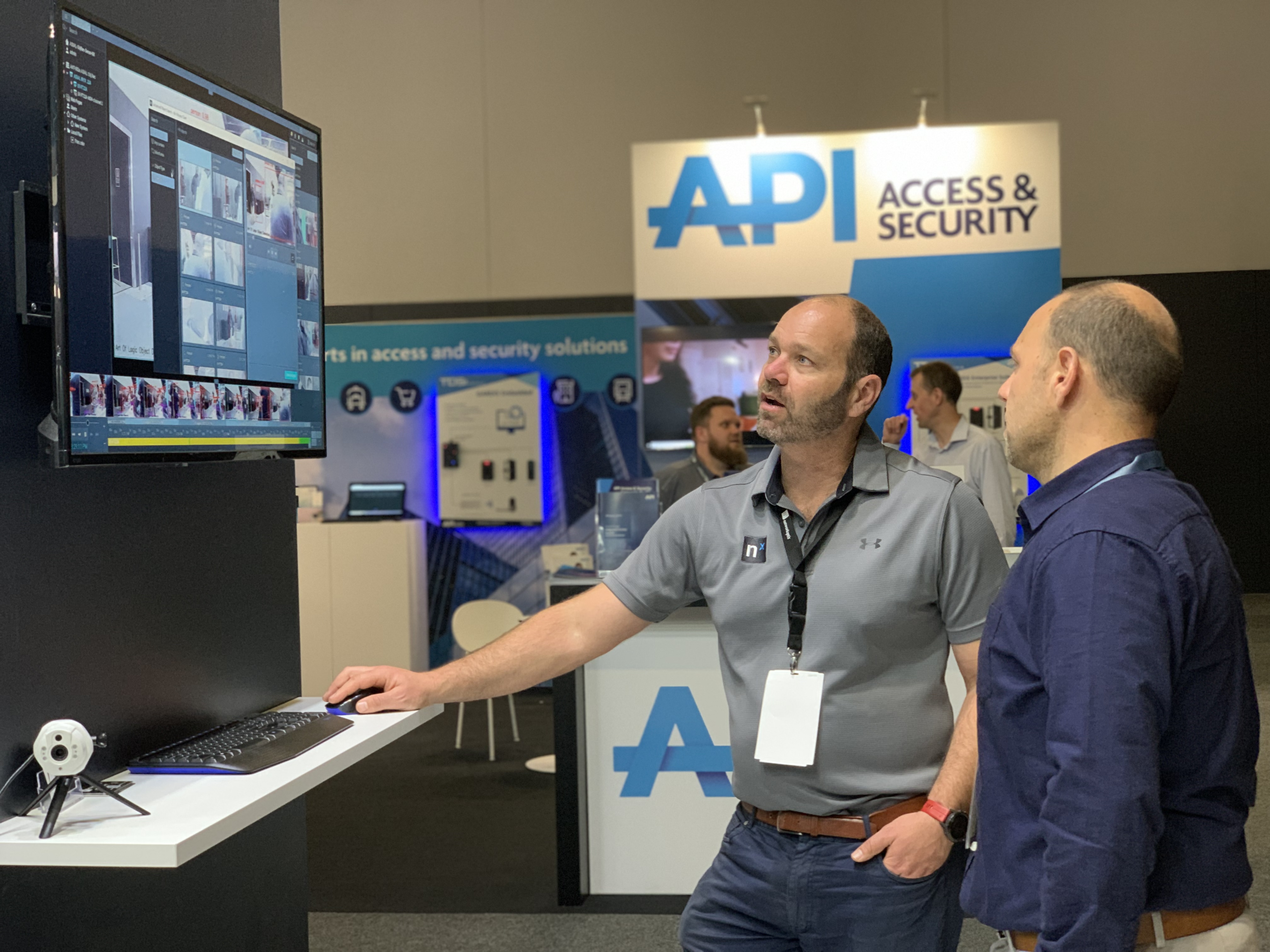 In May 2022 Nx hit the road, visiting five major cities in Australia with distribution partner ISCS as a part of the Sectech Roadshow. This five city event was the first glimpse we had of the forthcoming Powered By Nx software release, v5.0. One month later, Nx publicly released v5.0, which included the Powered By Nx product, Nx Witness VMS v5. This new version of Nx Witness VMS v5 was a full featured release, focused on cyber security, enhanced usability of existing features, and new interactivity features. Two months later in August 2022, Nx Oceania would have its greatest opportunity to show off its new Powered By Nx products at the Security and Integrate Expo in Sydney, Australia. Over the three day event the response to the latest release of Nx Witness VMS was outstanding and served as gratification for the hard work of the Nx Product and Development teams. The flow on effect from a great event such as Integrate and Security Expo can be difficult to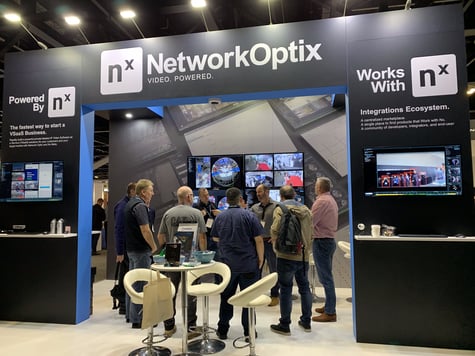 measure precisely, however with the v5 release we began to notice a spark in people's eyes as they considered the solutions that are possible with the latest Powered By Nx software. In the final quarter of the year, Network Optix went a step further and released Nx Meta Desktop as an open source package on Github.
As we begin 2023, our focus is to build sustainable growth and maintain high satisfaction with our Powered By Nx solutions. For Nx Oceania 2023, we're looking forward to new releases of software, a larger presence at events, and a brand new training program on the horizon.
Ryan's Support Tips
Now let's look at Nx Witness network issues, shed some light on what makes them occur, and offer some support on how to address the issues, straight from the mouth of Nx Oceania Pre and Post-Sales Engineer Ryan Fechner.
Firstly, what's with the Nx Witness network issues? Network issues are a common tech support question and quite often can be traced back to a network or camera setup issue. When a network issue occurs it is wise to first take a look at the network, then follow the steps provided below to help solve the issue:
What is the latency? Are there dropouts? You can see this by pinging the camera from the server. Is it stable? Is it high?
Are the cameras running through Point-to-Point wireless (PtP)? What is the wireless signal quality like? Are there trees or the occasional truck running through the PtP path?
Are the cameras running through a daisy chain of many switches? Sometimes it's simply unavoidable or prohibitively expensive to run fibre everywhere.
Is the Nx Server connected to the camera network via a 10/100 switch/port? Often a 10/100 connection will be easily saturated.
If you are still getting network issues after resolving any network issues then it is important to take a look at the camera.
Are you running the cameras at full fps and bitrate with many different analytics running? Often this can significantly increase the camera's CPU and other resource requirements. Try reducing the fps to 10-15 with a moderate bitrate and check and see if this changes anything.
One or all of these can result in Nx Witness identifying an issue with the communication. This doesn't necessarily mean you have a major problem, it might only be a packet from time to time which does not result in degradation of the footage. If you want to know more, check out this
article
.

Quanergy LiDAR Technology Now Works with Nx
In regards to new integrations, Network Optix is excited to introduce Quanergy LiDAR as a new Works with Nx Integration!
LiDAR, which stands for Light Detection and Ranging, is a time-of-flight sensing technology that pulses low-power, eye-safe lasers and measures the time it takes for the laser to complete a round trip between the sensor and a target. The resulting aggregate data are used to generate a 3D point cloud image, providing both spatial location and depth information to identify, classify, and track moving objects.
Quanergy's LiDAR platform and sensors analyze spaces in 3D with cm-level accuracy to provide volumetric sensing and insights including object location, direction, speed, and the type of objects detected. Quanergy's LiDAR 3D Object Detection is integrated with Powered by Nx products via the Nx Server API. Once an event is detected by LiDAR sensors, the event is 3D projected in the LiDAR interface and an API call is sent to the Nx system, triggering a Generic Event. Users can designate certain Actions to be triggered in response to detected events in the Nx desktop client.
Watch the webinar below for an in-depth overview and demo of Quanergy 3D Object Detection solutions:

Quanergy Works with Nx Details

Interested in joing the Works with Nx Integration Ecosystem? Visit https://www.networkoptix.com/works-with-nx to get started with Nx Meta or submit an integration.
Nx Collateral - Access to free Content Tools & More
Last thing, don't forget to take advantage of My Nx to access the text and image assets you can use to create awesome proposals and ads including brochures, graphics, case studies, and more. All available at https://www.networkoptix.com/my/content-tools.