Get a first-hand look at the latest version of Nx Witness VMS, v5.1, at Smart Security Technology 2023 on June 1, 2023 in Belgium!
Visit the Network Optix booth to meet with the Nx team and get a personal demo of Nx Witness VMS v5.1 - with enhanced usability and admin features like Cross-System Layouts, one-click Camera Replacement, and more!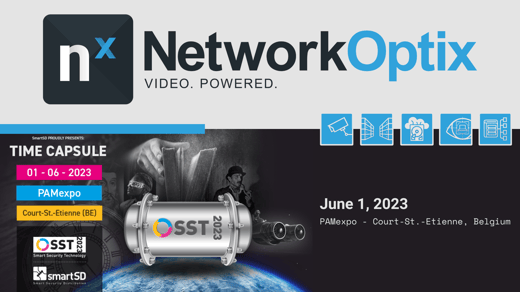 When: June 1, 2023
Where: PAMexpo, Boucle Joseph Dewez 2, 1490 Court-St.-Etienne (near Louvain-la-Neuve), Belgium.
What: Smart Security Technology is a trade show organized by Smart Security Distribution (SmartSD) for installers and suppliers to come together and explore the latest techniques and developments in the electronic security industry. The goal of this year's show is to look back at groundbreaking products from the past, compare these products with the latest security products, and discuss expectations of these trends in the years to come.