Join Nx's Alejandro Murillo at ESS+ International Security Fair 2023 on August 16th through August 18th for a first-hand look at the newest version of Network Optix Video Platform, v5.1 - with improved usability and admin features like Cross-System Layouts, one-click Camera Replacement, and more.

The Network Optix Enterprise Video Platform helps innovative organizations rapidly build world-class, custom-tailored, enterprise scale video software solutions that can run on-prem, at the edge, or in the cloud with a full set of developer tools (REST API, SDKs) that enable integration to any existing hardware or solution.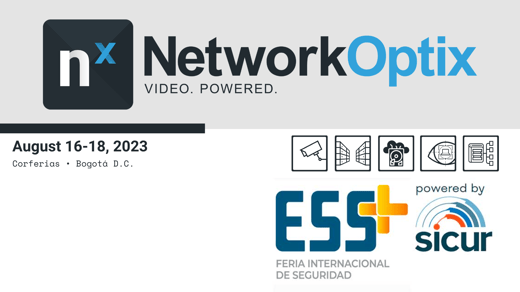 When: August 16-18, 2023
Where: Corferias, Cra. 37 #24 - 67, Bogotá, Colombia
What: ESS+ International Security Fair brings together leading companies specializing in cutting-edge solutions for the fastest growing markets in the region. Exhibitors will present solutions in critical infrastructure protection, citizen security, private security, supply chain security, transportation security.