Intelligent video is being used in defense departments around the world to help gather information for enhanced situational awareness on the battlefield, protection of military bases, and more. Interested in seeing how?
Visit the Nx team and Suprema at Defence Exhibition Athens (DEFEA) 2023 from May 9th to May 11th! Visitors to the Suprema and Nx booth will get a first-hand look at the newest version of the Network Optix Video Platform and Nx Witness VMS, Beta v5.1, with enhanced usability and admin features like Cross-System Layouts, one-click Camera Replacement, and more - plus an exclusive look at Suprema access control, time & attendance, and biometrics solutions and how they work with Nx!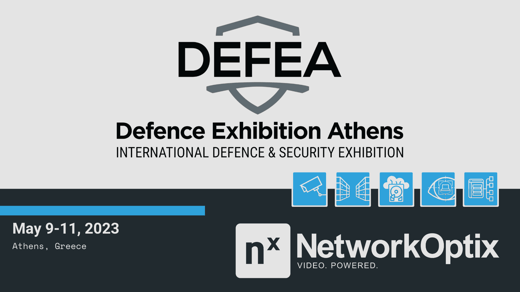 When: May 9-11, 2023
Where: Metropolitan Expo, Athens International Airport "El. Venizelos" Spata 190 19 Athens, Greece
What: Defence Exhibition Athens (DEFEA) is a high-profile international defense exhibition where companies from around the world present land, naval, aerospace, national and cyber security defense systems. DEFEA is organized under the auspices of the Hellenic Ministry of National Defence, with the cooperation of the Hellenic Manufacturers Association of Defence Material, and is organized by ROTA Exhibitions Greece.