The Power of ARM-Based Solutions in Intelligent Video:

Nx-Embedded ARM Solutions




In today's rapidly evolving digital world, businesses and organizations are increasingly turning to advanced video technology to enhance security, streamline operations, and unlock valuable insights from video data. While there is a plethora of video-based technology on the market, this blog post will focus specifically on ARM-based technology: what it is, its advantages, and how, when integrated with Nx video software, it's empowering organizations to tap into the full potential of their video data while expanding the accessibility of intelligent video capabilities to a larger audience.
The Capability of ARM-based Solutions
So, what exactly are ARM-based solutions, and why are they creating such a buzz in the world of intelligent video?

ARM, short for Advanced RISC Machine, is not just a catchy acronym. It represents a revolutionary approach to computing that's lean, efficient, and versatile. ARM processors are designed to deliver exceptional performance while consuming minimal power, making them ideal for a wide range of applications.

Now, imagine harnessing the power of ARM-based solutions for your video needs. These solutions bring a host of benefits to the table:
1. Lightning-Fast Performance
ARM processors are renowned for their speed and efficiency. They can handle complex tasks with ease, ensuring your video feeds are processed swiftly and without hiccups. Whether you're running a security system or monitoring production lines, ARM-based solutions keep everything running smoothly.

2. Unmatched Energy Efficiency
ARM-based solutions are designed to be energy-efficient, which means lower power consumption and reduced operating costs. This is especially critical for battery-powered devices and remote installations.

3. Seamless Integration
One of the major attractions of ARM-based solutions lies in their adaptability. They seamlessly integrate with edge-based devices, forming a cohesive ecosystem. This simplifies deployment and reduces the complexity of your video solution.

4. Real-Time Insights
ARM-based solutions excel at real-time processing, enabling you to gain instant insights from your video feeds. Whether it's identifying security threats or tracking customer behavior, you'll always be one step ahead.

But what sets ARM-based solutions apart in the landscape of video technology? The Nx Enterprise Video Platform.
Nx Enterprise Video Platform: Your Gateway to Intelligent Video
The Nx Enterprise Video Platform is the cornerstone of your journey into intelligent video. It's designed to work seamlessly with ARM-based solutions, providing you with a robust, scalable, and user-friendly foundation on which to build your ideal video solution.

Nx Enterprise Video Platform offers many advantages that empower you to elevate your video capabilities, some of which include:

1. Effortless Scalability
Whether you're expanding your surveillance network or integrating more cameras, you can effortlessly scale your video infrastructure to meet growing demands and adapt to your needs.

2. Intuitive Management
Managing your video feeds has never been easier. Nx provides an intuitive interface that allows you to monitor, analyze and react to critical events in real time with ease.

3. Advanced Analytics Integrations
Nx software supports a wide range of analytics applications, from facial recognition to object tracking, enabling you to extract valuable insights from your video feeds.

4. Unrivaled Compatibility
Nx software is designed to work seamlessly with ARM-based solutions, making the integration process hassle-free and allowing you to focus on what matters: making the most of your video data.


ARM Technology + Nx = Game-Changer
To sum it up, ARM-based solutions embedded with Nx software are a game-changer in the era of intelligent video. The seamless integration of ARM-based video solutions with the Nx Enterprise Video Platform eliminates traditional barriers that have hindered businesses from fully adopting intelligent video. ARM-based technology's impressive speed and energy efficiency tackle performance and energy consumption concerns, ensuring efficient video processing even in remote or battery-powered setups. On top of that, the Nx Enterprise Video Platform's smooth integration enhances scalability, simplifies deployment, and provides intuitive management tools, making video solutions accessible to businesses of all sizes and industries.
By removing these obstacles, this integration empowers organizations to tap into the full potential of their video data. Real-time insights, advanced analytics, and effortless scalability become readily available, enabling data-driven decision-making in areas like security, customer behavior analysis, and production line optimization. In essence, these integrated solutions unlock the full potential of intelligent video across a wider range of businesses and industries, making it an essential asset and propelling the future of advancements in video technology.
Want to build the ideal video solution for YOUR market and YOUR customers?

Get started
here
.
Want to integrate your tech with Nx software?

Discover how to join the Nx Integrations Marketplace
here
.
Nx-Embedded ARM Solutions Examples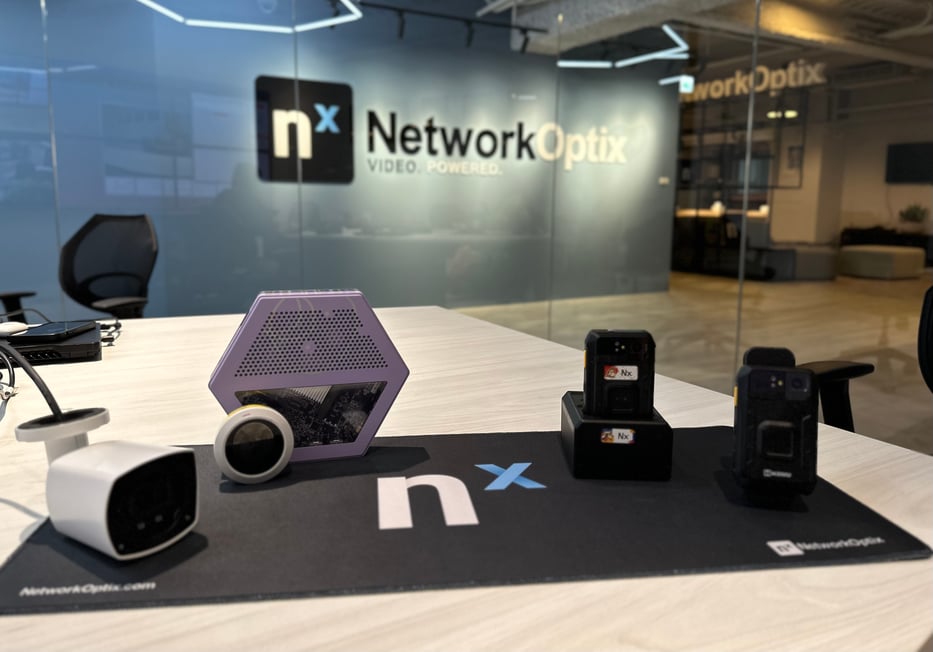 Now, let's explore some of the real-world capabilities of such solutions by taking a look at a few ARM-based solutions fully embedded with Nx software. The following are ARM-based SoCs and the corresponding edge device on which they run.
Qualcomm Camera Processor - WiZAVIU Body Worn Camera
WiZAVIU Body Worn Camera
is a 4G LTE-enabled, AI-powered body-worn camera that utilizes AIoT technologies to provide smart camera solutions for a variety of uses including law enforcement, i-construction, and smart security.

Key Features:
Adaptive RTSP streaming which can fit different bandwidth requirements.
Push to talk features in the local web allows people with different body-worn cameras to talk to each other via the internet using the Web Client.
SOS features with an Emergency event sent to Nx Witness (via Generic Event).
Archive video to a Nx Witness virtual camera.
Live Web Map using the Nx Witness built-in web browser.
For more details, visit the WiZAVIU Body Worn Camera Works with Nx page.
---
Ambarella AI Vision Processor - VCA NxEmbedded IP Camera
VCA NxEmbedded IP Camera is an edge-based camera-VMS solution that embeds the advanced features of the Nx Server directly into the camera. With multiple built-in analytic plugin options, NxEmbedded provides users with a comprehensive solution for edge-based video surveillance.
Key Features
Serverless architecture, everything on camera
MicroSD storage of up to 1TB
AI Analytics
Face detection, with profile matching
ANPR/MMCR
---

NVIDIA Jetson Orin Nano - VCA Servers
VCA Servers enable the cost-effective implementation of AI-based analytics to any IP camera. VCA servers are available in multiple configurations to suit a wide range of applications including Security, Loss Prevention, Retail, Transport, and Health and Safety.
For more details, visit the VCA Video Analytics Platform Works with Nx page.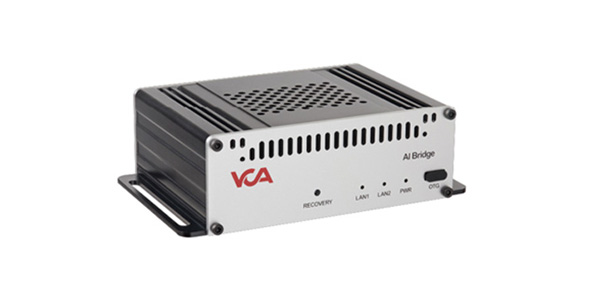 VCA AI Bridge Server
---
Socionext SoC - XSLab Server
XSLab V-Raptor SQ is a high-density Multi-Core Blade Server in an envelope-sized package.
Key Features
Consumes only 15W of power
Up to 32x ARM Server Nodes
---

Rockchip SoC - Allnet Micro Nx Server
Allnet Micro Nx Server is a 6-core micro recording server, fully embedded with the Nx Server recording component.
Product Specifications
2 TB storage

1 x LAN 1000Base-T

1 x HDMI (for config. only)

2 USB ports

ARM 6 core CPU & GPU

12 VDC
---
Renesas SoC - Amnimo Edge Gateway
Amnimo Edge Gateway is an AIoT edge-based video solution that simplifies deployment and setup by combining a network video recorder, LTE router, PoE switch, and Nx Witness VMS all into one compact gateway. Developed for connecting remote video monitoring solutions in even the most unstable environments, Edge Gateway utilizes Nx Witness capabilities such as AI camera integration, Smart Search, custom AI plugins, etc. from anywhere through any device.
Key Features
Instantaneous power failure countermeasures by power backup function
Quick switching of multiple SIM cards overcomes disturbance in telecommunication
Automatic initial setup via the cloud
Remote firmware and setting updates
Syslog collection during operation
Settings are saved in the event of failed systems
For more details, visit the Amnimo Edge Gateway Works with Nx page .
---