AI-powered solutions are helping organizations reduce their carbon footprint and optimize worksite safety in response to initiatives like ESG corporate sustainability and net-zero carbon emissions by 2050. Want to know how?
Join the Nx APAC team on September 14 and September 19 for Smart Factory 2023 to discover how Nx Enterprise Video Platform can help you build your ideal Smart Factory solution quickly and efficiently. With seamless video data aggregation, AI model interfaces, and a responsive, open-source user interface, Nx Enterprise Video Platform simplifies Smart Factory solution creation. See it for yourself at Smart Factory 2023!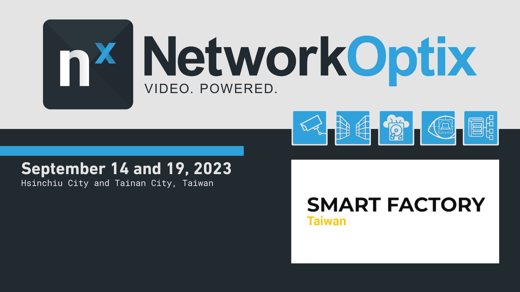 When: September 14th, 8:30 - 17:00 GMT+8 and September 19th, 8:30-17:00 GMT+8
Where: DAY 1 - Southern Taiwan Science Park, 2nd Floor, Conference Room 201, No. 26, Nanke 3rd Road, Tainan
DAY 2 - Fleur Lis Hotel, No. 69, Minzu Rd, East District, Hsinchu City
What: Smart Factory Taiwan 2023 invites experts and technology practitioners to discuss the disaster risk management, the factors that must addressed in order to create net zero carbon emissions, and gives companies a platform to introduce their latest high-tech solutions. Amidst these discussions, participants will learn the premise of building corporate ESG sustainability and how to use security AIoT + 5G new technology to achieve personnel safety, energy storage safety, field environment safety, and implement the safety and sustainability of the new generation of intelligent factory buildings.
Attendees will also get the opportunity to see presentations from Nx Market Development Manager, Jason Lee and Nx Asia Regional Manager, Andy Wen.


---
Use the Nx Enterprise Video Platform to Build Your Own Smart Factory System
- Jason Lee, APAC Platform Manager

Date/Time: September 14th, 10:45-11:10

Description: The Nx Enterprise Video Platform helps organizations rapidly build world-class, custom-tailored, enterprise-scale video solutions for any vertical - including Smart Factory applications. Boasting effortless video data aggregation, interfaces with various in house developed / 3rd party AI inference models, and a highly customizable user interface that is exceptionally responsive and open source, the Nx Enterprise Video Platform makes building tailor-made Smart Factory solutions easier than ever!
---
The Era of Video AI is Coming: The Best Platform for Factory Intelligence
- Andy Wen,

SEA Regional Director

Date/Time: September 19th, 9:45-10:10

Description: In the era of AI, a VMS platform must go far beyond simple video storage and retrieval. Enter the Nx Enterprise Video platform - an advanced AI-ready platform that not only revolutionizes the surveillance landscape but also serves as a versatile, integrated system with the power to advance the role of logistics for various industries. Learn how you can utilize Nx Enterprise Video Platform to quickly and efficiently build your ideal AI-powered Smart Factory solution for any use case.