The future of urban living is here. Transformative tech innovations in a variety of areas like Urban Planning, Clean Energy, and Transportation, are making cities more connected, sustainable, and efficient than ever before. Visit us at Smart City Expo World Congress 2023 to be a part of the conversation!
Join the Nx team on November 7th-9th in Barcelona to find out how Nx Enterprise Video Platform can help you build your ideal Smart City solution quickly and efficiently. With seamless video data aggregation, AI model interfaces, and a responsive, open-source user interface, Nx Enterprise Video Platform simplifies Smart City solution creation. See it for yourself at Smart City 2023!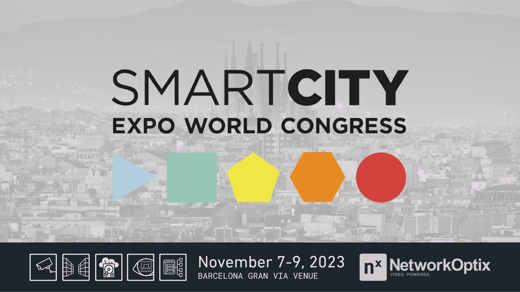 When: November 7-9, 2023
Where: Gran Via Venue, Av. Joan Carles I, 64
08908 L'Hospitalet de Llobregat
Barcelona
What: Held in Barcelona since 2011, Smart City Expo World Congress is the world's biggest event for cities and urban innovation. Every year, leaders from the most innovative companies, governments and organizations gather to collectivize urban innovation across the globe and empower cities to face the critical challenges the world faces today.