If you are a fire & safety and/or security professional in or around the Netherlands, you don't want to miss this year's FireSafety and Security Exhibition!
While you're there, visit the Nx Team and Nx system builder and distributor, WSM Technology on April 12-13th for a first-hand look at the latest version of Nx Witness VMS and Network Optix Enterprise Video Platform - Beta v5.1 - with enhanced usability and admin features like Cross-System Layouts, one-click Camera Replacement, and more!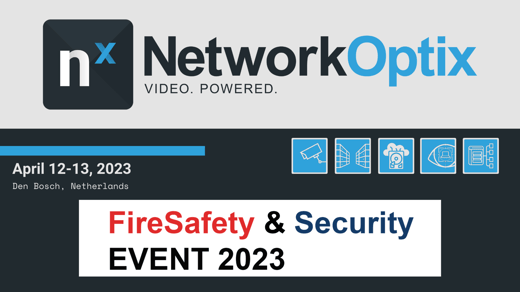 When: April 12-13, 2023
Where: Brabanthallen, Diezekade 1, 5222 AK 's-Hertogenbosch, Netherlands
What: FireSafety & Security is an exhibition event held every year in the Netherlands offering networking and knowledge-sharing opportunities for professionals in the fire safety and security industries. Exhibitors will include suppliers, installers, alarm centers, consultants, insurers, managers, and government agencies (police, fire brigade, etc.). Just like in 2022, the event is supported by three sector organizations: the Federation of Safe Netherlands, Technology Netherlands, and the Association of Recognized Security Companies.