A Comprehensive Maritime Security Solution Achieved with

Network Optix

and

VSP Security Wholesale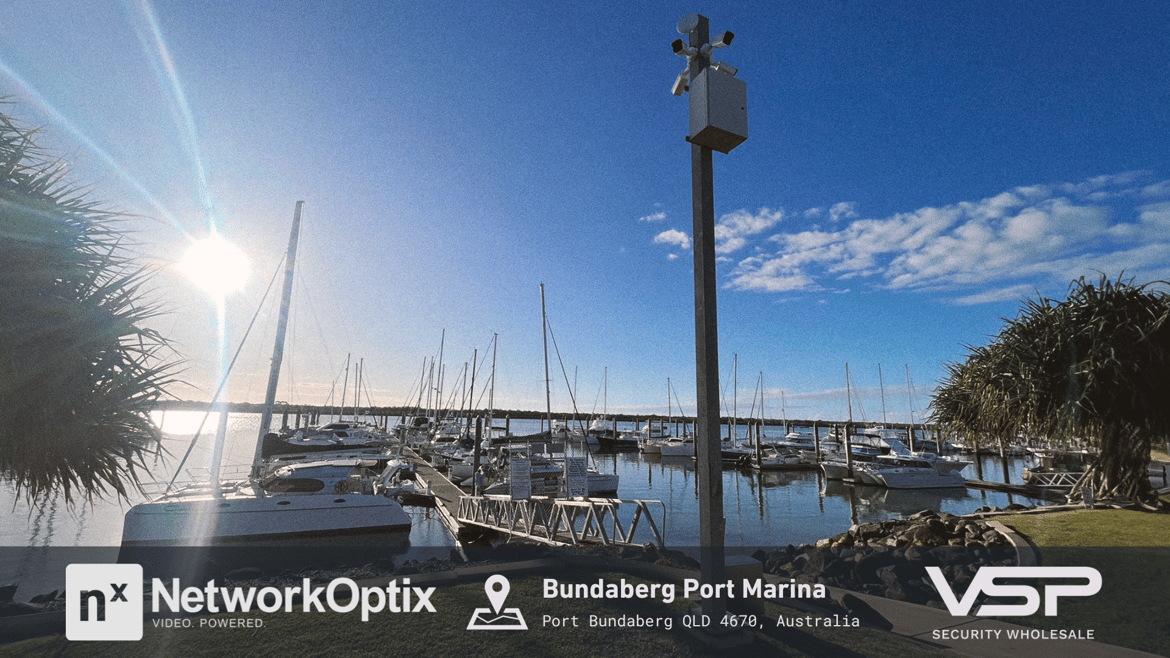 Following a recent expansion, Bundaberg Port Marina, a critical entry point to the Great Barrier Reef and Fraser Island in Queensland, Australia, needed an upgraded centralized security system capable of safeguarding the entire 180-berth marina. Taking into account the marina's distinct environmental factors, marina management requested a totally wireless solution with cameras capable of detecting events in low-light conditions.
After looking into their options, marina management decided to seek out expertise from security wholesaler VSP and security system installer Security Enterprises to help them build the ideal security solution.

VSP, Security Enterprises, and Network Optix provided an advanced surveillance solution that utilizes Nx Witness VMS to address the challenges raised by Bundaberg Port Marina. Nx provided the video management system (Nx Witness VMS), VSP provided the system design expertise and hardware, and Security Enterprises provided the manpower and installation expertise.
The marina wanted a VMS and integrated video analytics solution that would address the following key questions:
How can IP video be used to provide comprehensive security for a sprawling 180-berth marina, all from one centralized source?
How can IP video be utilized to efficiently detect and mitigate potential risks to the marina and its visitors, even in low-light conditions?
How can a surveillance system be successfully deployed in a completely wireless environment?
Nx and VSP Offer a Solution
VSP used
Ubiquiti
wireless links and Hikvision cameras, fully integrated with Nx Witness VMS, to provide Bundaberg Port Marina with a turnkey, multi-site functional security solution that addressed the above challenges according to the limits of the specific project without sacrificing the effectiveness of the solution.
Nx Witness VMS and IP Cameras capture video of people, objects, and occurrences throughout the marina.




System operators easily manage and monitor the area using key features like a flexible grid interface, custom layouts, administration and live viewing in a single unified interface, fisheye camera dewarping, forensic zoom windows, and advanced PTZ controls.


Nx Video Wall

allows marina management to view several pre-configured displays, allowing them to work seamlessly whilst still maintaining the views of the key areas like fuel pumps and blind spots from the marina control room.




System operators have created Rules in the Rules engine which creates Bookmarks and alerts system operators (optimized to identify and alert within 3 seconds) each time an event is detected by cameras.




If system operators need to investigate a particular piece of footage, they simply open Nx Witness VMS and search archived video for a particular item of interest. Nx Witness VMS captures and stores metadata allowing operators to search an entire year of archived video in seconds using associated metadata (tags, bookmarks, etc).




Ubiquiti wireless links installed on marina poles and buildings provide a constant, uninterrupted connection.

Hikvision 4K AcuSense bullet with Darkfighter technology delivers clear images in low lighting conditions, triggers its strobe light and alarm, and plays customizable warnings when an event occurs.
"Bundaberg Port Marina has been running its video surveillance solution for 6 months and in that time the system has been vital in successfully detecting a number of incidents that threatened boats and amenities, allowing a quick response."
- SEN News, Nx Witness Hikvision Ubiquiti Case Study
Read the Full Case Study from SEN
---
About VSP Security Wholesale
VSP Security Wholesale is an Australian-owned and independently operated distributor of a variety of security and video solutions.