v5.1 Beta - Available Today!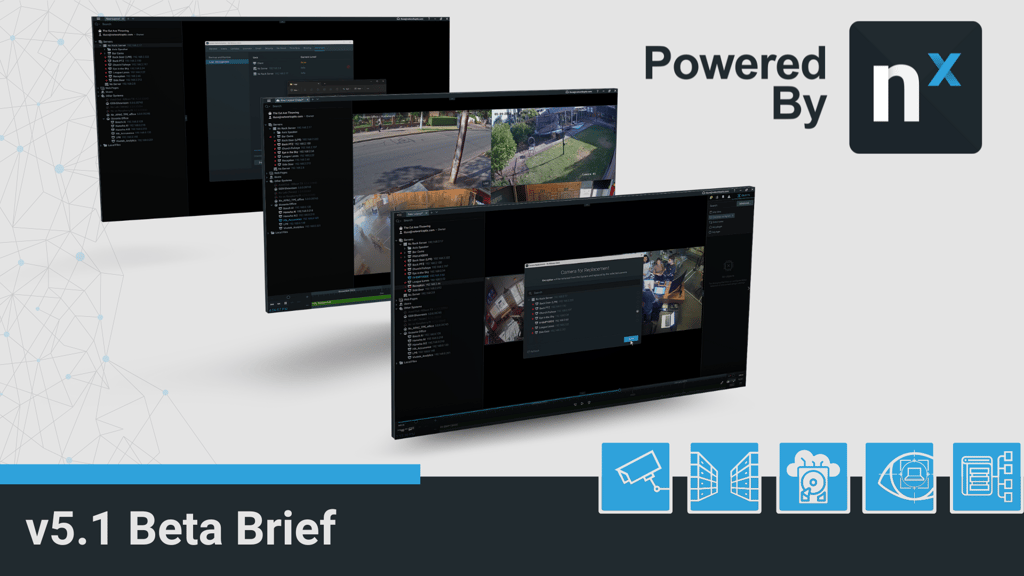 v5.1 Beta, the newest beta release for Powered by Nx product users, is available for download today! The v5.1 beta release is focused on creating a more efficient workflow for users, expanded device and analytics support, and more admin capabilities.
Cross-System Layouts (aka Cloud Layouts)

Camera Replacement

Remote Log Retrieval

New Device Support

Client Javascript API
See the full list of key features included in v5.1 Beta and how they work below.
As with all Beta versions, if you find any problems or would like to provide feature feedback please head to our
Support Portal
.
Cross-System Layouts (aka Cloud Layouts)
Operators with rights to multiple Systems can now combine cameras from Cloud-connected Systems into a single Layout.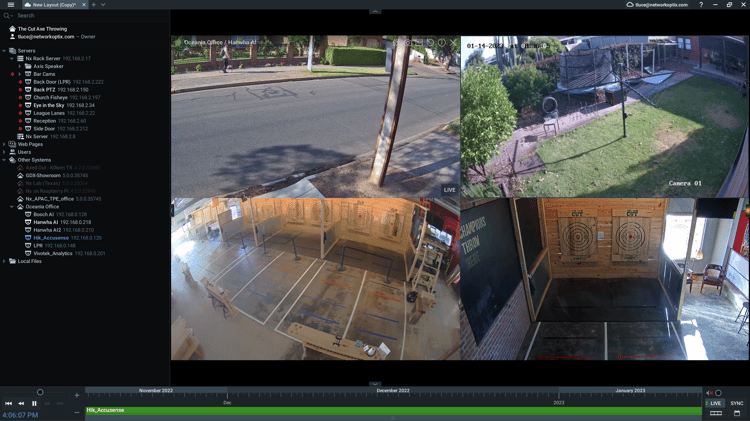 How Cross-System Layouts Works:
Create a Layout by dragging cameras from your currently connected System onto the Viewing Grid.
In the Resource Panel, scroll down to the Other Systems. Compatible Systems (v5.1 and higher) will have nested cameras.
Drag a camera of your choice onto the Viewing Grid and save.
Watch the Youtube video embedded below to see the Cross-System Layouts feature demoed in the client:
---
Camera Replacement
A simple, straightforward way System Owners or Administrators can replace an IP camera with just a few clicks of the mouse.
Name, archive, general and advanced settings, recording settings, PTZ settings, event rules, analytics, and camera access rights will be transferred to a new camera.
Motion Detection settings and 2-way Audio will not be transferred.
The current archive from the old camera will still be accessible.
The camera must be on the same Server.
This action can be undone.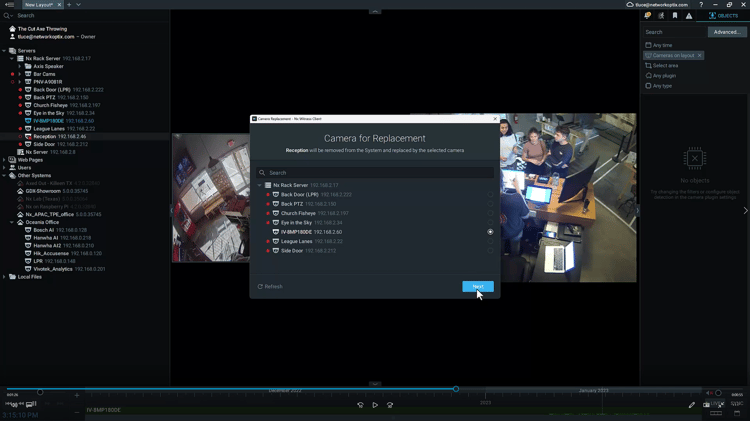 How to Replace a Camera:
In the Resource Panel right click on the camera you would like to replace and choose Replace Camera.
In the Camera Replacement dialog review what data will be transferred and choose Next.
Limitations:
Camera replacement is not supported for: Virtual cameras, Speakers, NVRs, IO modules, Multi-sensor cameras, Unauthorized cameras, or offline cameras that appear after reindexing the archive.
Watch the Youtube video embedded below to see the Camera Replacement feature demoed in the client:
Remote Log Retrieval
Users can now download Desktop Client and Server logs remotely via the Desktop Client.
How Remote Log Retrieval Works:
While in the Desktop Client navigate to the System Administration dialog and then click on the Advanced tab.
In the left panel choose Logs Management and use the checkboxes to select the log(s) you would like to download.
In-Camera Analytics is now supported for Milesight and Uniview cameras.
In-Camera LPR Support added for Axis, Milsight, Vivotek.
Hanwha Intercoms are now supported.
*see full release notes in My Nx for details.
Client Javascript API
The following abilities have been added to the Client Java Script API:
Get cloud and user token
Set Locked/Unlocked layout settings
Hide top menu controls (back button, refresh button, fullscreen, info).

*see full release notes in My Nx for details.
Min/Max archive retention period is now in minutes, hours, and days.

Motion DB was moved from the system storage to the archive storage.

Server connections to/disconnections from the Cloud are now logged in the Audit Trail.

A power management setting has been added that allows computers to sleep while the Desktop Client is still open.

Showreels no longer display a title bar on top with the camera name.

Scheduled database backup has been disabled by default on ARM devices.

Support added for MPEG4 RTSP video streams.

Bookmarks and object attributes could only be found if a text matched the one from the beginning of the word. Search can now be performed by a text in the middle of the string (3 symbols minimum).