Nx Meta Desktop Open Source.
Free. Fast. Futuristic. Video Management.
The Nx Meta Desktop application is a unified Desktop client for connecting to, viewing, and managing your Powered by Nx systems - but that's not all.
It's a rich media player with a flexible GRID interface, unmatched speed and responsiveness, instant notifications, an embedded browser, and a user experience unlike any other video + situational awareness management interface out there.
And now - thanks to the hard work of the Nx developer team - it's available on Github as an open source package.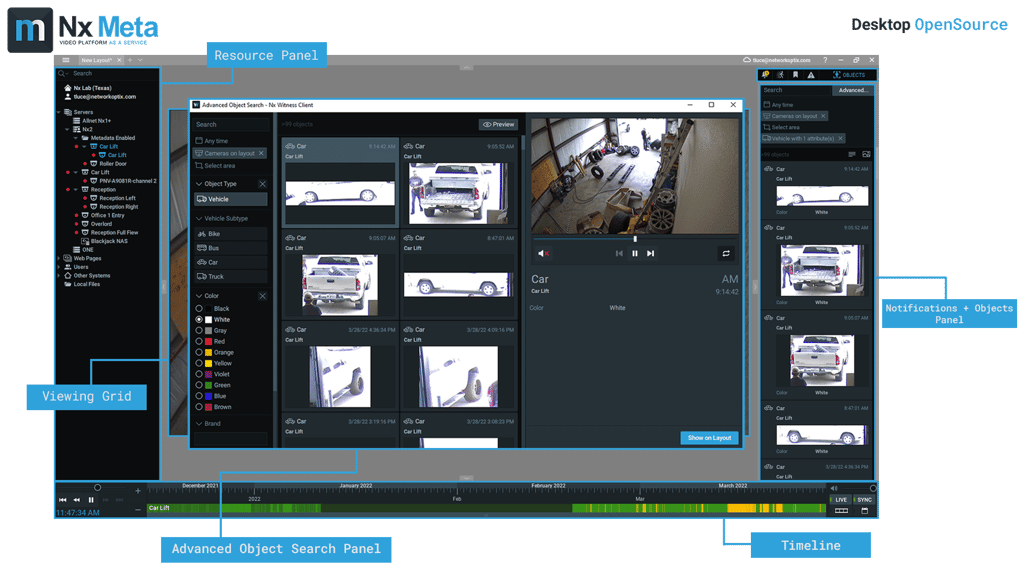 Nx has always been Built for Developers.
At the core of Nx's release of the Nx Meta Desktop application as an Open Source package is one idea: Nx is built for developers. What does that mean? It means Network Optix is not a company that thinks it can do everything.
Instead, Network Optix understands that markets - and even individual customers - have great ideas about how they can use our software to create something that's perfect for them, and so we strive to give them the tools they need to rapidly accomplish their goals with the use of intelligent video.
The Nx Desktop open source package is all about enabling innovation in the Powered by Nx channel. It's about putting the power of creation into the hands of brilliant, creative product management and product development teams so that they can create unique, customer-tailored intelligent video solutions that solve their unique use cases and feature needs.
About the Nx Meta Desktop Open Source Package
The Nx Desktop Open Source package is a an open source repository that contains all the components developers need to build a Desktop Client application that allows for total customization of Powered by Nx products and solutions, as well as the opportunity to integrate with 3rd party applications.
Who can use the Nx Meta Desktop Open Source Package?
The Nx Meta Desktop Open Source package is licensed using the Mozilla Public License (MPL) version 2.0.
This means anyone - Systems Integrators, End Users, Powered by Nx partners, and any 3rd party developer can use the Nx Meta Desktop open source package to create unique experiences.
What is the Mozilla Public License?
The MPL is a simple copyleft license. The MPL's "file-level" copyleft is designed to encourage contributors to share modifications they make to your code, while still allowing them to combine your code with code under other licenses (open or proprietary) with minimal restrictions.

The MPL fills a useful space in the spectrum of free and open source software licenses, sitting between the Apache license, which does not require modifications to be shared, and the GNU family of licenses, which requires modifications to be shared under a much broader set of circumstances than the MPL.

Who maintains the MPL?
The MPL is maintained by the Mozilla project, a global non-profit community dedicated to building openness, interoperability and individual empowerment into the Internet. The Mozilla project operates under a system of distributed authority known a the Module Ownership System. Like other Mozilla modules, the MPL has a module owner and peers who are responsible for maintaining the license. The current owner and peers are listed at the Module Owners page.
Interested in getting started with Nx Meta Open Source Package?