Inc. 5000 Recognizes Network Optix As One of the Fastest-Growing Privately Held Companies in America for the 7th Consecutive Year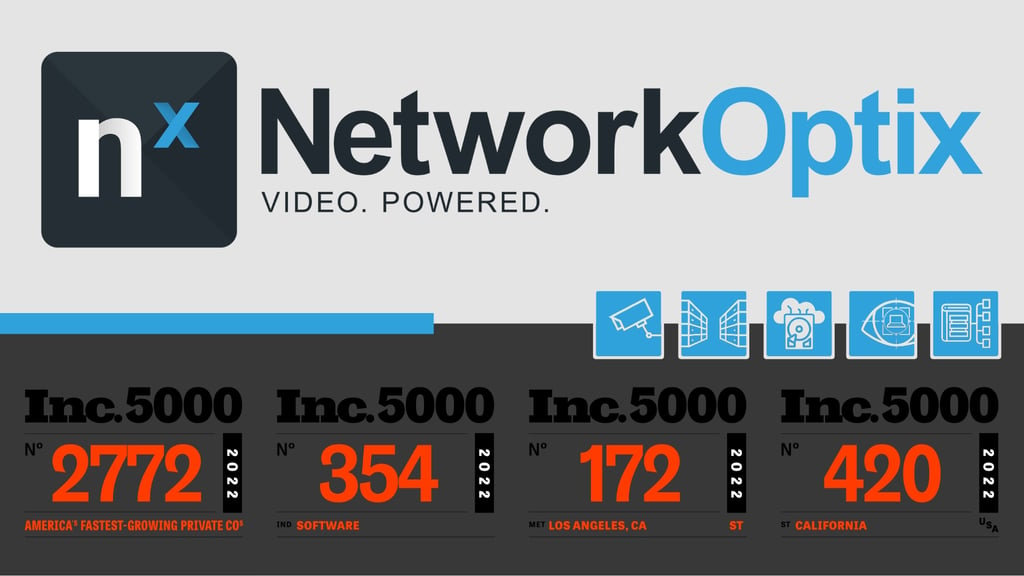 Network Optix
is proud to announce its recognition as a 2022 Inc. 5000 company - an esteemed achievement held by only the most prolific privately held companies in America. Nx was first recognized on the Inc. 5000 listing in 2016 and has been recognized each year since. This year, Nx ranks #2,772 with a growth rate of 201% from 2018 to 2021 and #354 in Software out of the 588 software companies that made the list.
"Making Inc.'s Fastest 5000 for our 7th year in a row is a testament to the quality of our video software platform, and a point of pride for us as a company. Continuing that strong and stable growth for the next seven years is a worthy new challenge." - Nathan Wheeler, CEO of Network Optix

What does it mean to rank among Inc. 5000 companies?
Companies recognized as a 2022 Inc. 5000 company must rank among the top 5000 of privately held US companies by percentage revenue growth from 2018 to 2021, signaling their growth over a 3-year period. Since 1982
Inc. Magazine
has published its ranking of America's fastest-growing privately held companies, beginning with a list of the top 500 and expanding to the top 5000 in 2007. In the past 40 years Inc. Magazine's yearly listing has become a forecast of large-scale success, having identified numerous future widely-known brands including Pandora, 7 Eleven, Toys 'R' Us, Zipcar, Zappos.com, and more. Securing a spot on the list is a signal of a company's stability, prolificacy, and ability to innovate in the modern business climate.
See the full 2022 Inc. 5000 list for yourself
here
.