Veracity COLDSTORE Storage Systems Works with Nx
Categories:
System Management
Compatible Nx Version:
Nx Witness 4.2
Integrated with Nx:
Storage SDK
---
How Veracity COLDSTORE Works with Nx
Veracity COLDSTORE Surveillance Storage Systems, specifically designed for storing video and metadata for IP Video Surveillance systems, come equipped with a sequential filing system (SFS) and linear array of idle disks (LAID) technology. These two technologies work together to create a digital storage solution with high disk reliability, high capacity, low TCO, and reduced disk costs when compared to RAID.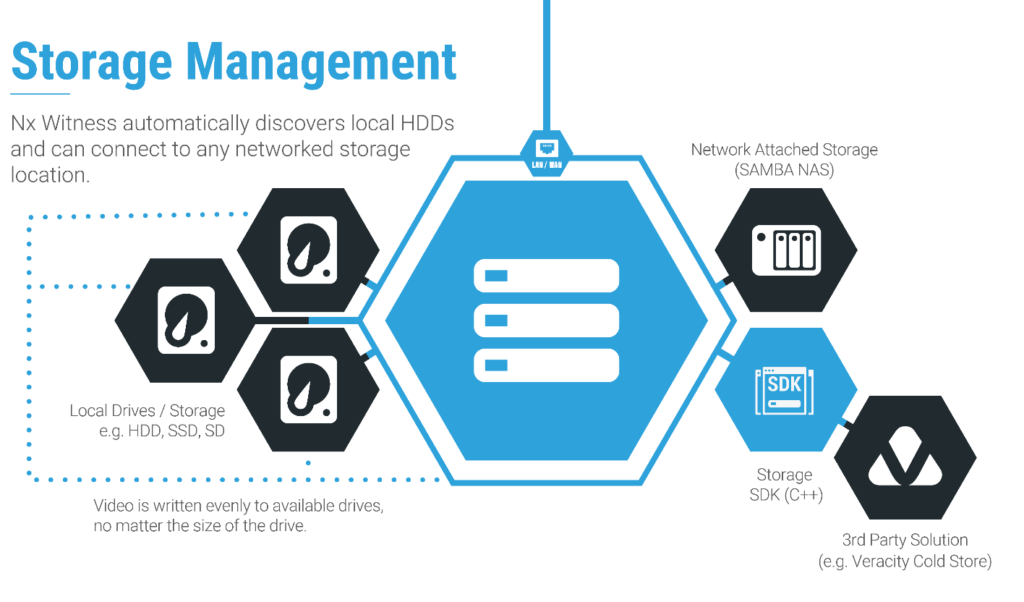 Veracity COLDSTORE integrates with Powered by Nx products (like Nx Witness VMS) via the Storage SDK. Developed specifically for COLDSTORE Hardware via the Storage SDK, the integration allows Powered by Nx products to automatically discover COLDSTORE hard drives. Working seamlessly with the Nx Server's hive architecture, COLDSTORE stores and synchronizes system data evenly among available drives in real-time.
Veracity manufactures an extensive portfolio of IP video surveillance products, display solutions and integrated security management software.
Veracity's wide range of security systems protect critical national infrastructure sites including military bases, power/water utilities, transportation hubs, stadiums and prisons, with a growing presence in safe-city systems.