Tiger Technology Surveillance Bridge Works with Nx
Categories: Data Management, Cloud Storage
---
How Tiger Surveillance Bridge Works with Nx
Looking for a way to extend the storage capabilities of your Nx Witness VMS (or other Powered by Nx product)? Tiger Surveillance Bridge is a middleware application for Windows OS that makes it possible to replicate, move, or expand your Nx VMS archive to any cloud or on-prem storage location.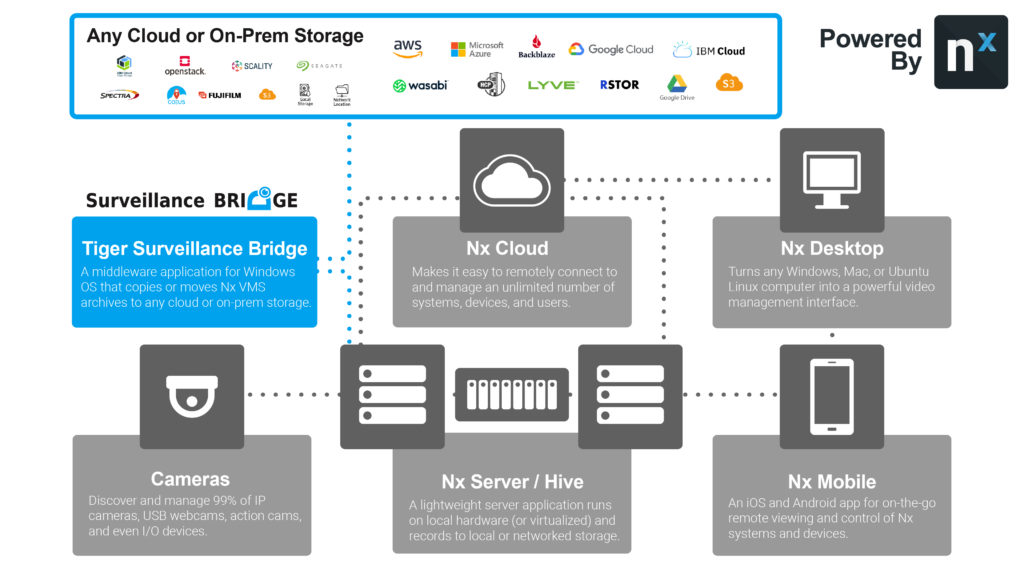 Once installed on the Nx Server, Surveillance Bridge replicates captured video files to the cloud and replaces the original file in the Nx Server with a "stub file" – a file that takes up no space and appears to Nx Witness to be stored on the local server, while actually being hosted in the cloud. To Powered by Nx VMS products, the NFTS file system never becomes full, therefore allowing video files to be continuously backed up in the cloud.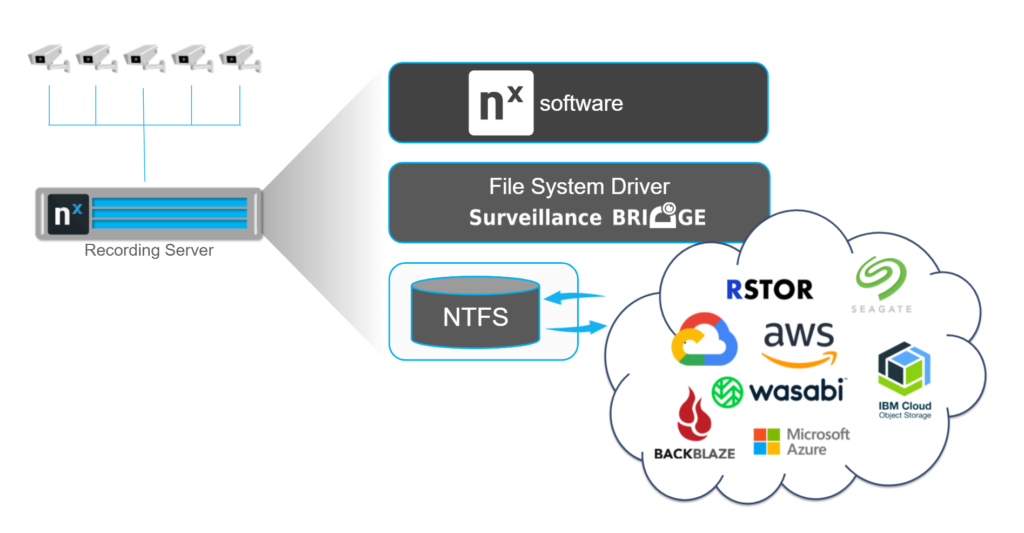 ---
How to setup Tiger Surveillance Bridge with Nx
---
About Tiger Technology and Surveillance Bridge
Tiger Technology develops and designs high-performance, secure, data management software solutions for companies in Enterprise IT, Surveillance, Media and Entertainment, and SMB/SME markets. Tiger's software portfolio consists of high-speed NAS/SAN file system sharing, virtual volume set, and virtual project workspace management in addition to HSM tiering and synchronization solutions. Tiger Technology enables organizations of any size and scale to manage their digital assets on-premises, public cloud, or with a hybrid model.
Surveillance bridge is Tiger Technology's seamless cloud connector that enables users to store captured video in any cloud – including AWS, Azure, Google, Wasabi, and more. Surveillance Bridge extends local storage capabilities into the cloud indefinitely and provides a simple solution for complete data recovery in the event of local server failure. Key features include:
Store more: Seamlessly connect your local storage with the cloud – any cloud, and always have room for new video and more cameras.

Spend less: Save up to 80% on storage compared to on-premises hardware by tapping into lower-cost cool & archive cloud tiers.

Ensure business continuity: All video and metadata needed to reconstruct your timeline can be made immediately available with Surveillance Bridge for Disaster Recovery.