Key Features of v5
Advanced Object Search • Metadata Driven Archive Backup Options • Web Page Proxy via Servers • Two Factor Authentication (2FA) • Resource Grouping • Audio Mapping • Desktop Client Automatic Updates • Encrypted Archives • Server Location ID for Failover • Server Web Admin Interface Redesign • Video Preview Thumbnails • More Secured Connections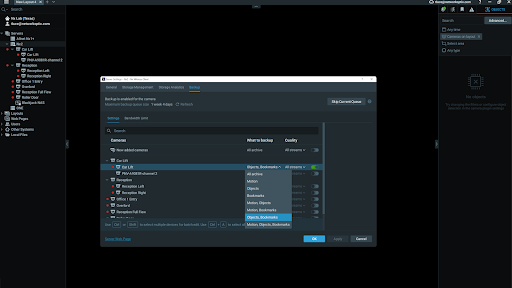 METADATA DRIVEN ARCHIVE BACKUP
In addition to being able to do real-time, scheduled, or on-demand backups, archive backups can now be configured to allow backup of recorded video archives based on associated system metadata – including motion, bookmarks, or objects.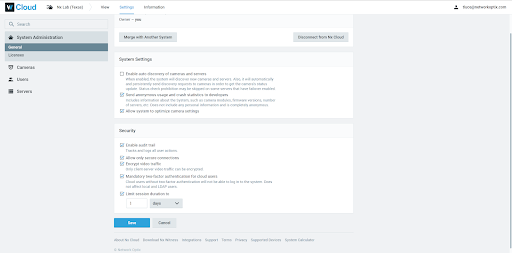 TWO FACTOR AUTHENTICATION (2FA)
Cloud connected systems can now utilize 2 factor authentication. This is a system wide setting and forces all users with Cloud accounts to use an authentication app (Cloud supports Google Authenticator, Microsoft Authenticator or Duo Mobile) to verify their identity before logging in to a System.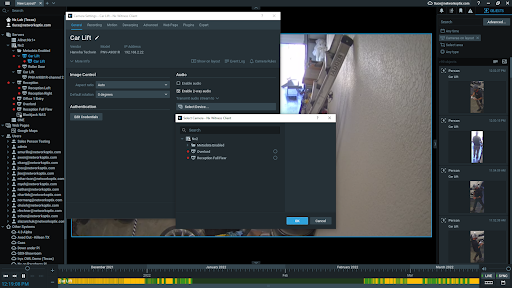 AUDIO MAPPING
Operators can use audio capabilities from different devices together. For example, an audio source from a camera or I/O module with a microphone can be used as an audio source for another camera. Another example – a 2 way audio button can be placed on a camera without a microphone and used with a different camera that has a speaker attached to it.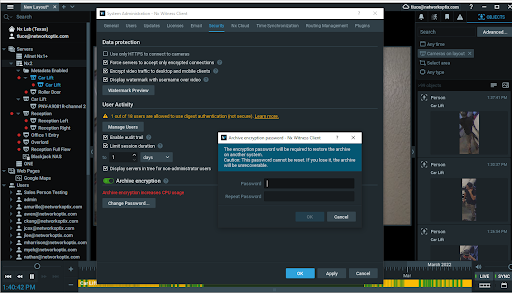 ENCRYPTED ARCHIVES
When enabled, recorded video archives will be encrypted and viewable only in the Desktop, Mobile, and Web clients. Works on any hard drive or storage medium. System owner creates the encryption key.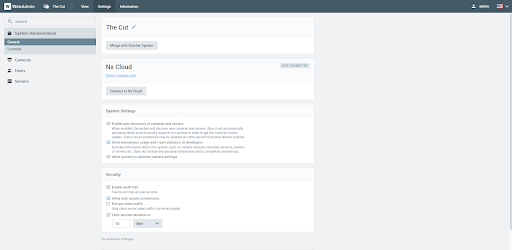 SERVER WEB ADMIN REDESIGN
The Server Web Admin interface has been redesigned to allow administrators to add and remove users, as well as view detailed information about Servers, Cameras, and Licenses.
DESKTOP CLIENT JAVASCRIPT API
A brand new Client Javascript API embedded in Web Pages allows developers to create browser-to-client interactions, allowing custom web apps to drive Desktop Client behaviors, including:
Open/close cameras
Play/pause videos

Available now on

Github
MORE SECURE CONNECTIONS
All VMS Server connections use SSL/TLS Certificate pinning to render man-in-the-middle attacks impossible. VMS Servers and Clients also use new session-based (bearer token) authentication by default.
REVAMPED SERVER API
A new Server HTTP API has been introduced, designed in RESTful style instead of the RPC style of the old HTTP API.

Features missing from the new API are still covered by the old API and will be added to the new API over time.
The old API will be supported for several upcoming VMS releases but may become officially deprecated in a future version.
The Server WebAdmin now includes documentation for the new API.

/api/systemSettings is now available only for the system owner and administrators.
Added GET and POST handler support to the Server for "/api/createEvent" requests.
Subsections within analytics sections did not show up on the Plugins tab in System Administration. Fixed.
The Server parameters "motionType" and "backupDaysOfTheWeek" were incorrectly represented in JSON. Fixed.
Added an option to allow ec2/cameraThumbnail to retrieve the stream's live image.
Introduced the defaultRemovableDriveState VMS server configuration parameter to replace allowRemovableStorages
Improvements in Nx Witness v5
NEW SYSTEM SETTING AND GENERAL IMPROVEMENTS TO HTTPS CAMERAS
Some cameras did not work in the HTTPS-only mode. Fixed.
Introduced a system-wide setting that forces HTTPS only communication for cameras (System Administration -> "Use only HTTPS to connect to cameras"). If this setting is enabled, the server will drop connections to cameras that do not support HTTPS or a supported proprietary API protocol.
REDESIGNED FISHEYE CONTROLS
Added hotkeys to turn and zoom in/out.
NEW ARCHIVE BACKUP OPTIONS
Archive associated with one event type: recorded motion, bookmarks, or objects.
Archive associated with all combinations of event types:

motion and bookmarks
bookmarks and objects
motion and objects
motion, objects, and bookmarks

The entire recorded archive
IMPROVED TOOLTIPS IN THE RESOURCE PANEL
Minimal delay when viewing the video preview thumbnail for cameras with recording enabled.
When hovering over a resource, the video preview thumbnail updates every 2-3 seconds.
"Preview is outdated" text is displayed over the video preview thumbnail if it has not been updated in over 15 minutes.
ADDED THE FOLLOWING HOTKEYS TO INTERACT WITH THE RESOURCE TREE
Ctrl (Cmd) + F – selects the search box.
Up/down arrow key – shifts selection between the search box and items in the Resource Tree.
IMPROVED "CAMERA SETTINGS" DIALOGS
Added new recording modes to the Recording Schedule:
Object only
Object + Low res
Motion + Object
Motion + Object + Low res
If the Recording Schedule is invalid, an exclamation mark icon will be displayed in the Resource Tree and a notification with the message "Recording schedule is invalid" will appear in the Notifications Panel. The recording mode will be set to "Always" until the issue is resolved.
Added the option to select a camera stream to use for object detection (see Motion tab).
Configuring a camera is more straightforward and reduces the chance of making mistakes.
The Recording Schedule on auto-discovered cameras comes with the following settings by default:

Recording type: Motion Only
Quality: High
FPS: Max

Removed the option "Keep camera streams and profile settings" for RTSP/HTTP streams.
The "FPS" and "Quality" fields on the Recording tab will be disabled if "Keep camera streams and profile settings" is enabled or "Allow system to optimize camera settings" is disabled.
The Recording tab better alerts the user when there are not enough licenses on the system.
A warning banner on the Analytics tab will be shown when recording is not enabled on the camera.
PTZ sensitivity can now be modified in the Expert tab.
The mount correction angle preview now shows a virtual rotation of the camera around its optical axis.
ADDED NEW HOTKEYS FOR TIMELINE ACTIONS
Press the [ key to set the starting point of a timeline selection based on the mouse pointer's position over the timeline.
Press the ] key to set the ending point of a timeline selection based on the mouse pointer's position over the timeline.
REDESIGNED THE IN-CLIENT USER MANUAL
Modern look and feel
Improved search tool
Collapsible/expandable topics