New Features in 4.0
With 18 new key features Nx Witness v4.0 is more powerful than ever.
C2P Integration
Nx Witness v4.0 includes integration with C2P (Convergence to Pixels) – an Open Platform Integration Framework enabling dozens of integrations with 3rd party systems.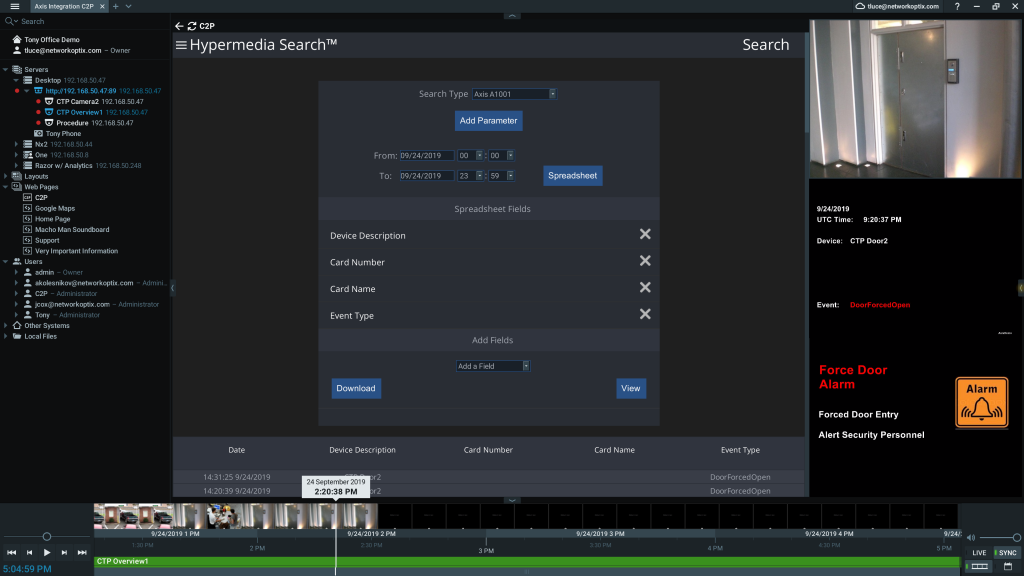 Dual RTSP / UDP / HTTP Streams
Administrators can now create dual-streaming "cameras" using RTSP / HTTP / UDP to enable adaptive scaling in Nx Witness clients.
Failover on Storage Failure
Automatic Camera Failover will now be activated when all storage on a Server has failed.
Metadata SDK
Enables seamless, semantic integrations between Nx Witness VMS and 3rd party AI-powered video analytics like VisionLabs.

Open Layout as an Action
Administrators can now create Rules in the Rules Engine to open any user-defined Layout as an action for roles or specific users.
Staged System Updates
The upgrade process has been optimized to be more dependable and give System Administrators more control over when and how they upgrade System Servers.
Cloud System Merge
System Owners can now merge Systems together in the Nx Cloud interface.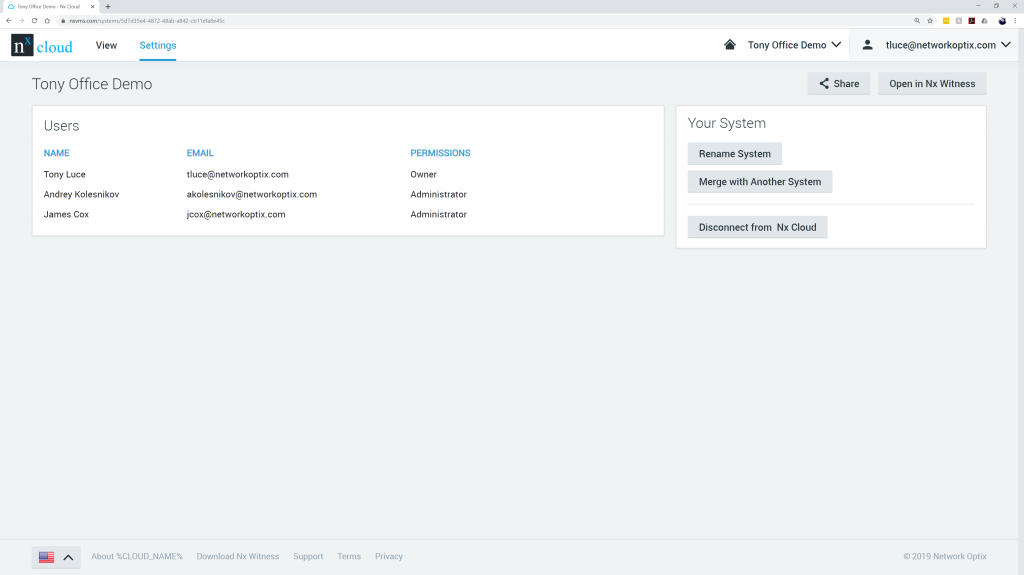 Encrypted Connections
Administrators can now require all connections in a System to utilize HTTPS with SSL/TLS encryption.
H.265 Support for ONVIF Cameras
H.265 support has been extended to include all ONVIF-compliant devices.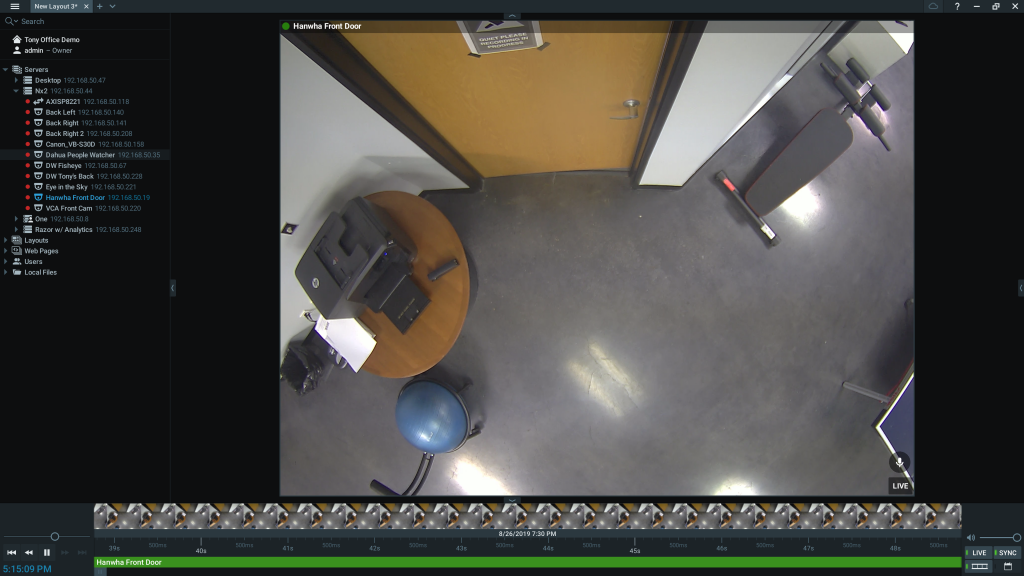 Minimum Layout Grid
Users have the option to set a minimum Viewing Grid size (initial number of Viewing Grid items) in Layout Settings dialog.
Plugins
Plugins allow seamless integration between Nx Witness VMS and 3rd party Systems, pulling in object data and associated bounding boxes, paths, and metadata tags.
Virtual Camera
Users can create a virtual camera and import offline video from wearable cameras, phones, and other devices to archive which can then be viewed by other System users like a regular IP camera / video stream.
Custom Watermark over Video
Administrators can add Operator Names to live, recorded, and exported video as an option to prevent / discover leaked video.
Encrypted Video
Administrators can now encrypt video between Servers and Nx Desktop / Mobile / Web clients.
Launch Desktop Client with CLI
The Desktop client can now be launched using the Command Line Interface.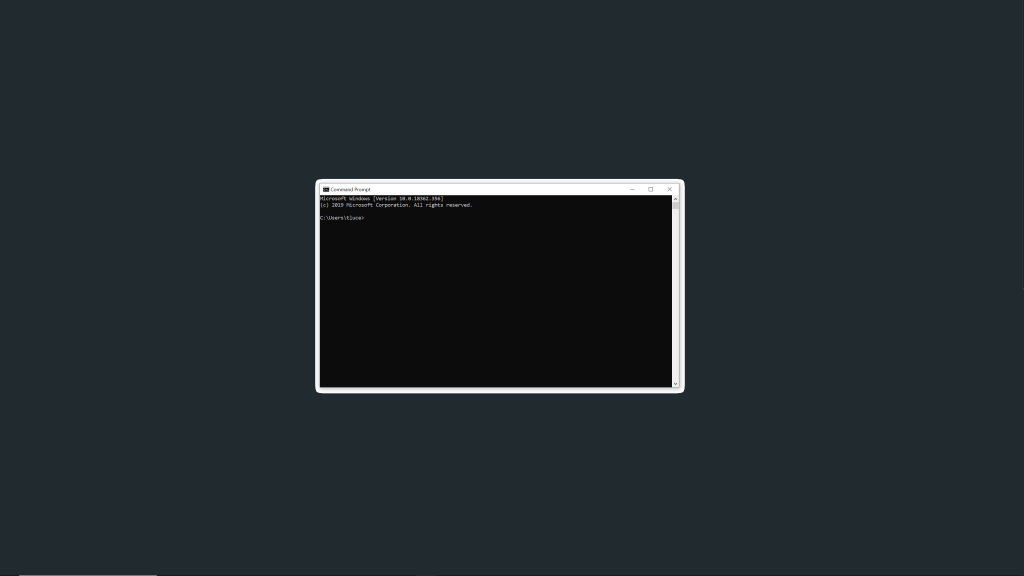 Notifications Panel Revamp
The Notifications Panel has been extended to allow operators to quickly view and search video using Notification, Motion, Bookmarks, Events, and detected Objects.
Secure Export
Users with Export rights can now password protect exported videos using .exe or .nov formats in the Multi-Video export tab.
Webcam Support
USB Webcams, Laptop Cameras, and even the Raspberry Pi camera module will all now be auto-discovered and can be recorded and streamed.
Improvements in Nx Witness v4.0
Improved System scalability, Video Wall updates, Rules Engine updates, and new device support.
SYSTEM SCALABILITY
The maximum number of recommended servers, resources, and users in a single System has been increased significantly.
Maximum Recommended Servers in a System:100
Maximum Recommended Resources (Cameras, NVR Channels, I/O Modules) in a System:

10,000
Maximum Recommended total amount of Users in a System:

1,000
* If approaching Maximum recommended System size please consult with Support for scalability planning. The maximums outlined are based on lab testing results and could vary significantly based on the project's real-world environment.
RULES ENGINE UPDATES
New Actions and Events in the Nx Witness Rules Engine
Set to Full Screen

and

Exit Full Screen

actions added to Event Rules engine allowing video items to be displayed in full screen mode based on events.
Omit Logging

added to Generic Event. When checked, a Generic Event will not be added to the event log. This allows operators to program display values as a text overlay from Generic Events without making database calls.
Storage Failure

has been renamed to

Storage Issue

in the event log/rules.
Added

Pre-recording

option to

Device Recording

action.
Added

System is Updated

event logging to the Audit trail when system is….updated.
Do HTTP Request

action now supports HTTPS urls.
Added a new event

System time was tuned at Server. Event shows only if server time was changed for more than 5 seconds after synchronization.
Added

Plugin Event

– Plugins can generate events which can be used to create Rules in the Rules Engine.
Added notification if all servers in the system are not connected to the Internet and time cannot be synchronized with the Internet time.
NEW DEVICES SUPPORTED WITH ANALOG ENCODER LICENSE
VIP X1600 XFM4, VIP X1600 M4S, VIDEOJET MULTI 4000
DH-XVR encoder line, DHI-NVR5832, DH-NVR4232, DH-NVR4216, DHI-NVR52a16, IPC-PDB4830-b360, IPC-hdbw13a0e, DHI-NVR5832-16p-4ks2, DH-NVR4232-4k, DH-NVR4216-8p-4k, DHI-NVR52a16-16p-4ks2, X52a3a, DH-xvr5108hs-x, DH-xvr4108hs-x, DHI-nvr4416-16p-4ks2, DH-xvr5108hs-4kl-x, DH-xvr5108hs-x, DHI-nvr4432-4ks2, DH-xvr7104he-4kl-x, DH-xvr5116he-x, DH-xvr7108e-4kl-b-x
DS-6708, DS-7208HQHI-K2+, DS-8116, DS-9016, DS-6701HFI, DS-9804, DS-7732, DS-7708, DS-6708HQHI-SATA, DS-7116hqhi-k1, DS-7208hthi-k2, DS-7204hqhi, DS-6716huhi, DS-7216hqhi
SNT-EP104, SNT-EP154, SNT-EX101E
DVS4101, DVS4104, EC1504-HF, NVR304-16EP, NVR308-64E, NVR308-32R-B, NVR304-32E*, NVR302-16S-P16, NVR302-08S-P8, NVR201-04U, NVR-301-08S, NVR301-081-P8, NVR201-041P
zkd408a, zkd608a, zkd408b
VIDEO WALL IMPROVEMENTS
Add Backgrounds
It is now possible to add backgrounds to layouts on Video Wall screen.
Disable Timeline
It is now possible to enable/disable the Timeline on Video Wall.
NEW IN-CAMERA ANALYTICS SUPPORT
Digital Watchdog (tested)
cross line people counting
crowd density
intruding people detection
object status changed
'Video Cast detection' also renamed to 'Abnormal color detection'
Dahua (tested)
Motion detection
Face detection
Alarm detection
Storage absence detection
Storage failure detection
Storage low space detection
Video blind detection
Scene change detection (Video abnormal detection)
Audio anomaly detection (Audio input abnormal detection)
Login error detection
Automatic Local Files Refresh in Resource Panel
NEW MULTI-SENSOR CAMERA SUPPORT (SINGLE LICENSE)
P3707, P3709, Q3708, Q3709, Q6000, P3717, F34, FA54
IPC-HDBW7233X-AS-E2-0280B, IPC-PDBW8800xxx, IPC-PDBW5831P-B360, PSD81602-A360, IPC-HDBW4231F-E2-M, IPC-hdbw4233x, IPC-hdbw7233x
DS-2PT3326IZ-DE3, DS-2cd6d24fwd, DS-2TD2636,

DS-2CD6924F*, DS-2CD6D54* and DS-2CD6D24 camera families